Hello everyone! Today I would like to take you on a mini house tour of our Living Room and Dining Room. We live in an old bungalow style house in the West Suburbs of Chicago. I absolutely adore the town we live in, it's picturesque and so friendly. We really had no intention of coming this far West, but we love where we ended up. That's another post for another day. The layout of our home is rather open, especially for an old house. After passing through our 3 seasons porch, the first thing you see upon entering our home is the Living Room which opens into the Dining room. Come on in!
This is pretty much what you see upon entering our home. One of my favorite things about this room are the Chinese Chippendale arm chairs. I've been in love with these chairs since I first saw them in Domino magazine years ago. They are pretty easy to come by in Florida, where I grew up. In fact, there are a couple of antique stores in Palm Beach that cater to this Hollywood Regency style specifically. Check out
Circa Who
and
Palm Beach Home Collection
. Unfortunately, I don't get down to South Florida much anymore because most of my family has moved away. This type of furniture isn't very common in the Midwest, so it's very hard to find, and always very pricey. These are mid century antiques, but Jonathan Adler has since made reproductions of them. They are very high priced as well though. $550-$750 per chair.
I actually found my chairs on Craigslist and drove to the middle of nowhere to get them. I paid $35 for the pair!!!
Our Ektorp couch we also purchase on Craigslist, by the time it was all said and done we purchased a new slipcover for it and our cost for this couch was $25. Seriously. You can also get different color slipcovers through Ikea, which is really nice for changing up the look. Each piece is individually slip covered so it's really easy to keep clean with two little people around the house. Very important! The "coffee table" we're currently using are actually two end tables I purchased at a thrift store when we first got married over a decade ago. Ten dollars for the pair. They are Lane furniture and very good quality, but I would like something a little lighter now. Glass or Lucite would be great. I think it would do a lot visually to "lift" and brighten the room.
I love the gold étagère! I found that at Goodwill back in January. I love that it's unique and gives me more surfaces for styling and using color.
It's a fun place to display new favorite finds like this glam swan bud vase I picked up at Savers.
This faux bamboo dresser was found at Goodwill for $4.99! I wish I had a before picture. This piece offers great storage. The drawers are filled with puzzles, games, books and art supplies for the kiddos.
This is our dining room as currently. I have some plans for changing things up in here though.
The campaign dresser you see under the window, we also purchased from Goodwill and refinished. It was $6.99! I recently acquired four more Chinese Chippendale chairs. They are armless and will serve as our side chairs. We will be painting all the chairs white as they are currently mismatched, moving the ones from the living room into the dining room and then the accent chairs we currently have in the dining room into the living room. The chairs that are in there now will be moved out to our dining area on the porch. Confusing, huh? I'll post more on the updates as they unfold
These chairs currently reside in the dining room as occasional seating. They will get refinished and moved into the living area.
The serving cart we recently added also resides in the dining room. During the winter months we had a hot chocolate bar on our buffet, but I'm thinking this winter we may move that over here.
I hope you enjoyed your visit! Stay tuned for more room tours in the coming weeks!
Linking Up
Linking Up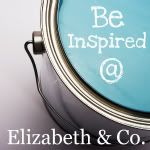 Linking Up @
Linking Up @