Hi Glam readers! It's Friday!
You made it! Breathe, breathe....
Most of you probably know by reading this little blog that I love my coffee!
No seriously, it's a bit of an addiction.
Can I get an "amen"?!
I thought I would devote this week's Friday Favorites post to coffee.
The Friday Favorites post is a bit different than Friday Five Under $5, in that all of my finds aren't necessarily under $5, but most of them are either very reasonable, or just something too fabulous not to share!
This set is available at
World Market
and is on SALE! The original price of the set is $39.99, but it's on sale for $9.99!
This coffee brewing system is $39.99. Not a bad price. Personally, I think the vessel itself is just beautiful, which makes it really appealing.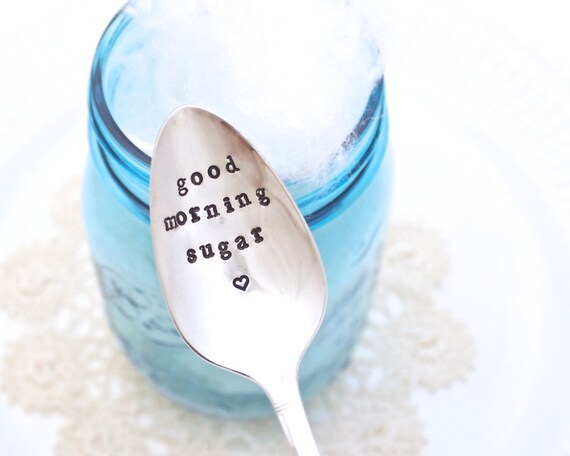 These hand stamped coffee spoons are so fun! They're $16.00, but you can special order whatever saying you like. I think they'd make a great gift for your favorite coffee drinker!
I love
Ashley Brooke Designs
! These mugs are $23.00 and honestly, I would be happy with any one of them. Who wouldn't want a compliment first thing in the morning?! ;)
I love all her items, but being a coffee addict, the mugs are a must!
If you're looking for really good espresso, illy is a great choice.
We Italians know our coffee ;)
It's available at World Market, Williams Sonoma, multiple fine grocers and I've even spotted it at TJ Maxx and Marshalls!
The 8.8 oz can will run you about $15 at World Market.
These stacking mugs are great for having next to your coffee pot or brewing system! They're on sale at World Market as well, for just $6.49!!
In case you want an extra specially good cup of coffee to enjoy with all your new coffee paraphanalia, you can check out my recipe for
Spiced Coffee
.
How about you?
Do you enjoy a good cup of coffee?
What's your favorite brewing system?
What are some of your favorite ways to enjoy your coffee?
I would love to hear about them!
XO,